Knights of Peter Claver Ladies Auxiliary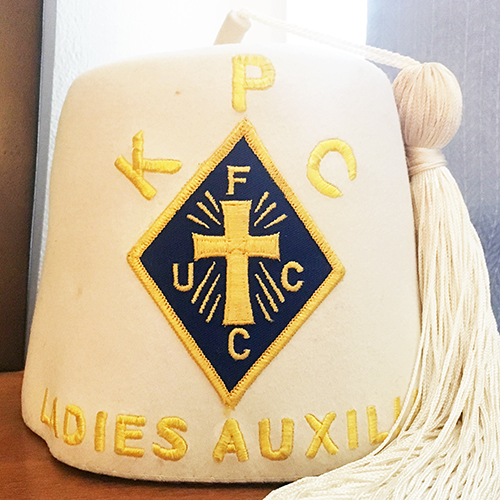 The Knights of Peter Claver are one of the largestAfrican-American Catholic fraternal organizations. The Order is named for St. Peter Claver, the Spanish Priest who ministered to African slaves. Originally founded in Mobile, AL, the organization is now headquartered in New Orleans, LA.
The Knights divide themselves into six "divisions" – Knights of Peter Claver, Knights of Peter Claver Ladies Auxiliary, Junior Knights, Junior Daughters, 4th Degree Knights and Ladies of Grace. The state "Our purpose is to render service to God and His Holy Church, render aid and assistance to the sick and disabled, and promote social and intellectual association among our members."
This fez hails from the Ladies Auxiliary division. It is constructed of white felt and has a white tassel. The emblem is a patch that has been added, while the name embroidered directly onto the piece. It was made by the D. Turin company in Florida and dates from the 1980's or 90's.